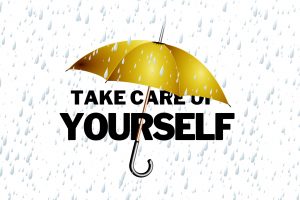 Wow!  What was that?!!!  August to November…start of school with so many new and challenging_____ (fill in the blank)! Teaching the "wee ones" can leave many early learning educators with very little energy in the teaching tank.  With teaching being a profession that loses 50 percent of its workforce in the first five years of their careers, it would be an understatement to say teaching is challenging. It traps us in small rooms with an unpredictable assortment of personalities, energies, and needs. It forces us to make hundreds of small, exhausting decisions every day. And over and over again, it puts us in predicaments that test our confidence, wear out our patience, and break our hearts. You can learn all the techniques, plan outstanding lessons, and set up a water-tight classroom management system, but to do this work and stick with it long enough to get good at it, you need a level of emotional resilience most other jobs will never require. This month we are going to take a DEEP BREATHE (my personal favorite is 1 minute Triangle Breathing) and focus on self-care.
Below are ideas and resources focused on helping us to not only survive BUT thrive in our amazing profession.  Find a comfortable place to settle in, a favorite beverage of choice, skim through these possibilities of self-care and find a "just right" for you!
Pair a Self-Care New Habit with a Regular Routine: In this Cult of Pedagogy interview (with resources): Why is it so hard for teachers to take care of themselves, teacher/author/blogger Jennifer Gonzalez interviews Angela Watson. Angela has spent the last few years really focusing in on how teachers use their time and searches for finding solutions to help them find work/life balance. About a year and a half ago she started the 40-Hour Teacher Workweek Club, a year-long program that provides resources, support, and community to teachers who are committed to getting out of survival mode and living a balanced life. Over 10,000 teachers have already joined the club and are seeing incredible results in their own lives.
One of the simple, yet powerful strategies that she suggests to all educators is to pair a new self-care habit with a regular routine, so that the self-care habit becomes automatic. This is a really powerful principle that is based heavily on neuroscience, where you can pair a new habit with an existing habit to make it easier to lock that new habit into place. The idea is that you should look for something that you already do automatically and integrate self-care into that.
Watson give these examples: "When you get in the car in the morning to drive to school, you put on your favorite song that uplifts and inspires you. Or, when you brush your teeth, that's something that hardly anyone has to think about, right? You just do that automatically. When you brush your teeth, you will think of words of affirmation and repeat positive thoughts about your day. Whatever it is, do the same thing, time after time, and it will create this almost Pavlovian kind of response. Pairing up habits in this kind of way is really powerful, because you're relying on the strength of an existing habit to make that new habit automatic, and it's a lot easier than relying on willpower or trying to make a decision, should I do, or should I not do it? When am I going to take care of myself, when will I have time for this today? You'll follow through a lot more easily with your self-care goals if it's part of a habit."
November is the month to "Be Here Now":  Elena Aguilar, educator/instructional coach/author has developed a month-by-month "resiliency resource" call Onward. Onwardthebook.com is the companion website to Onward: Cultivating Emotional Resilience in Educators by Elena Aguilar, published by Wiley. Both the book and this site (which has MANY free and useful resources) are dedicated to helping people cultivate resilience:
uncover their true selves
better understand their emotions
use their energy where it counts
adopt a mindful, story-telling approach to communication and community building
create an environment of collective celebration.
As Elena Aguilar shares "It's really hard to build community or to cultivate compassion or be a learner—some of the other habits—when you're just sick, when you're worn out!"
Want to Build a Self-Care Backpack: Teaching Channel, in their teaching back-to-school kits, has included self-care as one of the top things that we MUST put in our teaching backpacks. There are MANY great ideas of how to go deeper or reboot your own self-care. My favorite as an early learning educator resolves around being "playful" as an adult… "Plan for fun: How will you bring joy to your classroom and beyond every day?"
And finally…
Yoga for Teachers with Adriene: If you have never done yoga or have not discovered Adriene as a yoga teacher (free on YouTube), this 30 min yoga practice is a special sequence for teachers. This practice is about taking care of yourself, recharging your batteries, nourishing that special you. Who knows, yoga may be that "just right" self-care habit that you have been looking for!  Be well, wise, and wonderful this month my fellow friends in early learning 🙂 !!!