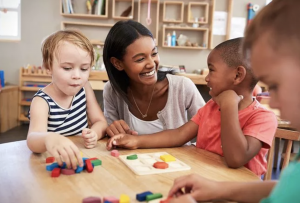 Teaching Clarity: What is it AND why do we want it in early learning?
Eminent educator and researcher, John Hattie (author of Visible Learning) spent more than 15 years researching the influences on learning of PreK-12 children. His findings linked student learning to several highly effective teaching practices with one of the best being Teaching Clarity. One way of providing clarity to young children is to use visuals during instruction. For example, when discussing important learning concepts, the teacher should refer to a posted visual or interactive chart that illustrates key learning concept. When discussing the key concepts in a book after a read aloud, the teacher could use visuals, songs, or rhymes to support and extend children's understanding (e.g., by drawing pictures of the different characters or using "anchor" songs or chants).
The FIVE priorities of planning and delivering learning with Teacher Clarity include:
Being clear about what you want your students to know and be able to do.

What do you deeply want your students to understand? What do you want your students to be able to do? Remember, less is best!

Clearly explaining new content to students.

Activate the learning with visuals, books, songs, interactive stories etc.

Clearly demonstrating skills and processes that you expect students to do.

Give students multiple learning "looks like" and "sounds like" experiences in large group that students can extend in flexible and personalized ways.

Give students practice tasks clearly focused on what you want them to know and be able to do.

Purposefully link new content/concepts to multiple learning opportunities in small group and purposeful play in center time.

Checking that students have a clear understanding of the new learning concepts.

Observe/document, ask questions, and provide feedback to students during the learning process. Use student feedback "data" to make adjustments in your instructional approach and learning support!
Want to check on your own Teaching Clarity?
NAEYC provides 10 Effective Developmentally Appropriate Practice (DAP) Instructional Strategies to help early learning educators check on how clear we are being in our instruction using flexible, learner-centered approaches. BONUS: This link also provides a cool, easy-to-use downloadable infographic that could be a great individual teaching or collaborative reference tool!  Check it out!
Want to see Teaching Clarity "in action"?
Watch some of your fellow practitioners bring big learning concepts to life with their students in Prek through third grade at Pk3teachleadgrow.org.
Erika Christakis, a former faculty member of the Yale Child Study Center and the author of the best-selling book The Importance of Being Little: What Young Children Really Need from Grownups, sums up the importance of providing Teaching Clarity in our teaching of young children, "…it's crucial to keep in mind that intentional, attuned teaching is the opposite of a free-for-all where children are running the show. Quality preschool teachers are intentional about everything they do: instructional approaches, the classroom routines, the physical environment, the schedule, the types of materials they make available for children to explore and manipulate. These teachers do an extraordinary amount of observation and reflection—and it's really almost impossible to do that in a vacuum: the best preschools have collegial, inquiry-based cultures so that they can continually experiment with and modify their learning environments to take advantage of children's natural curiosity." (taken from Edutopia interview with Erika Christakis titled What's Lost When We Rush Kids Through Childhood).